Having won the prestigious Fashion Scout Merit Award for 2014, the pressure for Xiao Li's was on and she certainly didn't disappoint: presenting a collection with a dreamy, pastel-perfect palette undercut only by an avant-garde edge which that came courtesy of slick, oversized structures.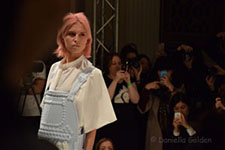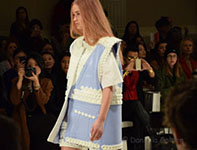 A hypnotic hook for the eyes, Li's fantastical detailing was an innovative and tactile focus point of the collection. Silhouettes ranged from  a feminine, mermaid shape with a dangerously low cut neck line, to the androgynous and oversized.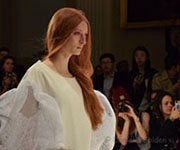 Blending soft blue and white together, we were lifted into a world of blue skies and fluffy white clouds. Meanwhile an intense, bright blue gave a bolder note that let us side step the fairy tale shades for a second and dive instead into deep blue oceans.
Ending on a high, the runway was lit up by a LED installed mesh jacket which glowed blue and garnered some gasps of awe from the guests. The work gone into this final piece must have been painstaking, but it was an effort well paid off. Innovative, versatile and like a hit of sugary sweet milk shake: Xiao Li's collection was undoubtedly one of our favourites from fashion week.
Words & Images by Daniella Golden.