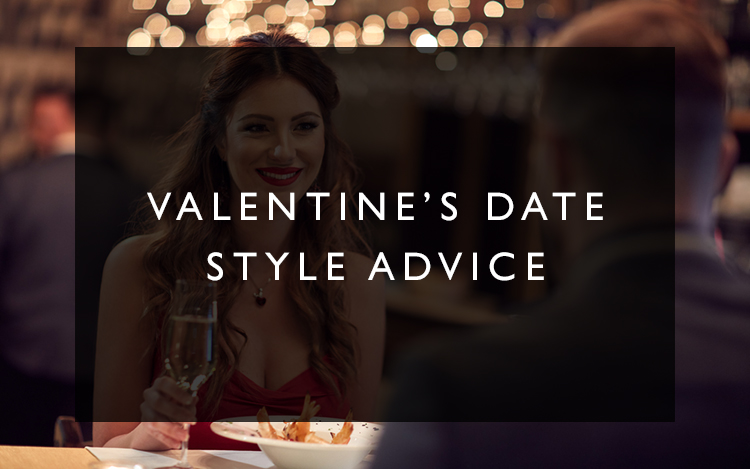 VALENTINE'S DAY IS ON THE HORIZON and with it, your chance to dress to impress. For many, it's a chance to DITCH THE BLACK SKINNY JEANS and try out something a bit more daring! For those that have a fancy blind date lined up, naturally, they want to impress and make the RIGHT FIRST IMPRESSION without coming across OTT or awkward!
Of course, there are no rules but if you want to learn how to style yourself to look all the more appealing, check out my date night styling tips to ensure you send out all the right vibes.
"GUYS, LOOK LIKE YOU HAVE MADE AN EFFORT BUT NOT TOO MUCH". 
A simplistic well-fitted look that exudes an effortless quality is far more appealing than bright mismatched colours, overpowering branding and tacky logos, and/or novelty socks and ties. These details can say the wrong thing without you having to even say a word.
For the sporty guy on a less formal date you might consider opting for a high-quality t-shirt, sports or bomber jacket with collar or chic leather jacket teamed with dark well-fitted jeans and smart sneakers or boots.
If you're heading to a fancier joint then you may want to consider smartening things up for the occasion. Check out the dress code on the venue's website or call them if you are unsure, by doing so you will get a feel for the setting. Wearing a suit is acceptable but the trick is to not look like you've dressed for work and ready to kick-ass in the boardroom. Smart separates are a much better option, less intimidating and will show off your personality more. You won't go far wrong in a slim fit shirt or for those that like this desired look but won't get away with a slim cut, go for a tailored shirt (not as fitted as a slim fit but more fitted than a regular fit shirt). There's no point trying to squeeze into modern day clothing just to make you feel trendier or younger – wear what fits and you will look attractive and well. To complete your ensemble good-quality leather lace-ups or loafers are the safe bets, although these won't work if they aren't polished or looked after! Socks are less important but should be fine wool or cashmere, not discoloured sports socks.
After all that, do pay attention to your underwear. You may or may not strike lucky, but if nothing else you will feel extra good in a nice pair of undies aka 'lucky pants', for future reference.
"GIRLS, LESS IS MORE".
When we get to a certain age, a guy wants to get a sense of the whole package. Giving him a glimpse of your figure without wearing clothes that are too revealing is far more enticing than going all out to flaunt every last bit of flesh and cleavage, avoid this at all costs as it will go against you on first impressions.
It's given that we want to look like we have made an effort and appear sexier, slimmer and a total bombshell but first things first – comfort is key in my book. Avoid anything you can't walk in or eat in, as it won't make for a pleasurable Valentine's experience. You don't want to be fidgeting and readjusting your clothing throughout the night, as it will get annoying and you won't be focusing on making the right talk.
If you haven't chosen the venue then check out their website to see what other punters are wearing. The gallery photos should tell you a lot about what is appropriate to wear – a dressier dress, an elegant jumpsuit or edgier separates.
Having said that, wear clothes with subtle details that reflect your personality and character – classy and sophisticated, feminine and girly, natural and sporty, quirky and creative – you get my drift. By demonstrating your own personal style may save time when working out if you are compatible or not – they say opposites attract so it's a good thing to put this into practice as well as ensuring you remain comfortable in the outfit you have chosen to wear. There's no point in trying to be someone you are clearly not, if nothing else you will make yourself happy at the end of the day.
Don't be afraid to show your natural side, go for a make-under instead of a makeover – a girl wearing too much make-up can be a real turn-off so accentuate your best features and keep things au naturale. Be confident and happy in your own skin, less is definitely more in the beauty stakes. 
For those long-term timers it might be exciting to break out of the norm and move you away from your usual blouse and skinny jeans combo. We've all got fabulous clothes lurking in our wardrobe that just never get an airing as much nowadays. Take a look and put together something spectacular and unexpected to show that you've made an effort even if it's an old beloved dress, statement necklace and killer heels. Chances are your other half won't remember you last wearing it so it will feel like new! When it comes to incorporating a different beauty vibe, why not simply invest in a new lippy or eye shadow colour to rekindle your outfit.
With love in the air, let's all try and achieve the ultimate goal of having an effortless style reflecting "I just threw this on", keeping him or her guessing in the hope of wanting more!
VALENTINE'S DAY PERSONAL STYLING GIFT VOUCHERS ARE ALSO AVAILABLE FOR A TOTALLY UNEXPECTED AND THOUGHTFUL GIFT IDEA FOR LOVED ONES.
TO BOOK YOUR VALENTINE'S STYLING SESSION, PLEASE EMAIL ME AT chantelle@personal-stylist.co.uk.