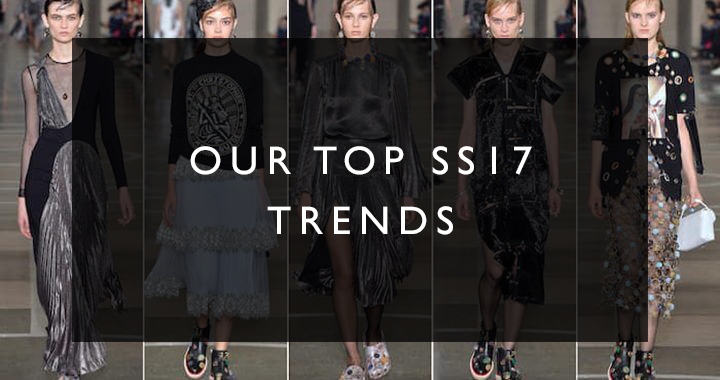 London Fashion Week is traditionally the more eccentric of the four fashion weeks and in our opinion, for Spring/Summer 17 it did not disappoint. The more fun, playful side of fashion that seems to have been inspired by the new look at Gucci has spread into our classic brands, such as Burberry and Mulberry. This year LFW also made history, with Burberry and Topshop Unique showing the first ever "see now buy now" collections. We have researched the endless looks from the catwalks from London Spring/Summer 17 and have brought you the most wearable trends, many of which are easy to incorporate into your wardrobe this season.
Metallic was shown at Versus and Christopher Kane. Metallic is a trend that is very popular right now and shows no signs of waning into the next season. We feel it is very easy to wear now, with Christmas just around the corner. Metallic accessories are all over the High Street and are an easy way to try the trend.
Lace appeared at Christopher Kane and Erdem. Again, a fantastic trend to wear now as we dress up for the festive season. Lace pencil skirts are a particularly popular look right now!
Picture credit: Financial Times.
Gingham was noted at Henry Holland and Shrimps. This is a much more summery look, however, a black and white check can work with a winter wardrobe and can still be worn in the warmer months but be aware of the fabric weight to make it relevant to the season.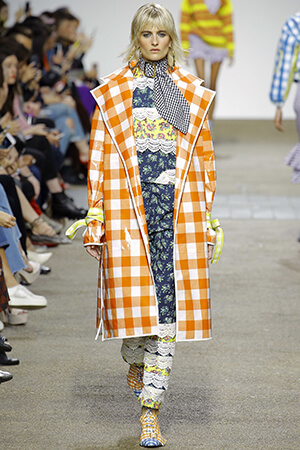 Picture credit: Wonderland Magazine.
Pink at Topshop Unique, Shrimps, Mary Katrantzou and Preen. This is a fabulous trend to add colour to the usually darker winter look. Also, perfect to lift your mood for the new season and put a smile back on your face.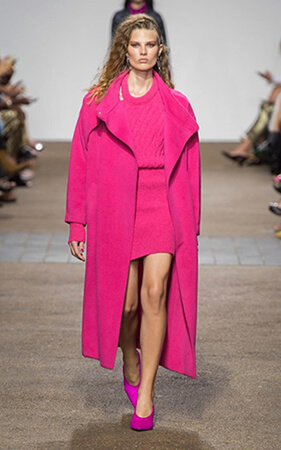 Picture credit: The Telegraph.
Ruffles at Preen, House of Holland, Burberry. Traditional Florals at Preen Spring/Summer 17 and Burberry and Shrimps. Ruffles are a great way to add texture and interest to an all black classic Winter outfit. Don't be put off by the fact that you could look too girlie or feminine, look for boldness and structure if you want to achieve an edgier look. The Traditional Floral prints can also be worn at this time of year, as Winter Florals have been a look growing in popularity.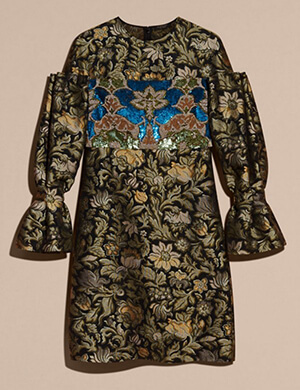 Picture credit: InStyle.
These trends can be summarised as an "English Eccentric" look – traditional floral print, embellishments such as tassels and ruffles. This look has been around for a while and often it's called "Granny chic" – it could seem a little 'out there' for a lot of people worn in a day to day outfit, however, the key with any fashion trend is to make it work for you. If sugary pink or over the top prints are not for you, a small nod to the trend within a scarf, or simple jacket lining, can update your wardrobe.
On the other end of the spectrum there are more casual looks that may work for your lifestyle better. One example is trainers! Practical and comfortable trainers are still oh so stylish. Converse collaborated with Shrimps and presented four pairs of bespoke Chuck Taylor All Stars for the label in their Spring/Summer 17 show in London.
We also like an ever-so-classic print and one of our faves were the stripes spotted at the Mulberry show – bold stripe blazers and dresses caught our eye. Stripe trousers were also shown at Burberry. Stripes continue to come back again and again but the interpretation for Spring/Summer 17 takes us right back to our school uniform days.
Animal print a classic fashionable print now seen by some as a neutral, was shown with Leopard print in colour from Christopher Kane, zebra print at Topshop Unique and a touch of traditional leopard print at Burberry. For those that LOVE print why not reinvent this print for Spring to suit your personality and style?
Finally, the classic shirt was shown at Mulbery and Burberry. A true classic style staple that will never date. Also seen a lot on the street from those attending London Fashion Week. There is no doubt we love this effortless key piece!
Photo credit: Pinterest