With every new season there's always a deliberation about which trends to jump on. For me, it's always a calculated decision! I'm not one to go crazy, so for me the ones I invest in are 'easy-to-combine' within my existing wardrobe – I much prefer to invest in unique staple pieces that I can wear each season and I'm a stickler for really looking after my clothing, ensuring they last for years and years!
For one, I LOVE print, texture, and colour (although I know I should wear more of it!). Rather than going for explosive seasonal 'fashion' looks I enjoy incorporating a few trend-led inspired separates with a nod to certain trends that I know will suit my shape, personality and lifestyle. Shoes and accessories effortlessly update my outfits easily with little budget required.
Here are my top three trend choices this season – can't get wait to get immersed in the glorious sunlight, brightness and positivity that spring brings!
THERE ARE STRIPES, stripes and more stripes this season – the nautical theme has definitely moved on! The aim of stripe patterns is to wear them from head to toe and/or wear them vertically and horizontally as well as take into account the proportions of each pattern, then clash them together. Sounds like a headache waiting to happen but I promise you it works for those with height. For someone like me at 5ft 3inches (just!) it would look ridiculous in longer line styles. However, I may consider wearing an oversized shirtdress with vertical stripes for a casual laid back look (and to make me appear taller!). This one really takes my fancy from The Row – goes to show stripes don't have to be boldly seen, a subtle approach works just as well.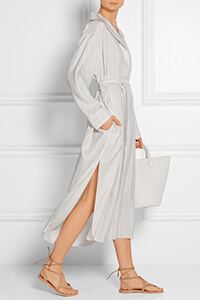 Luid Striped Silk-jacquard Dress by The Row, £1,110 from Net-a-porter.com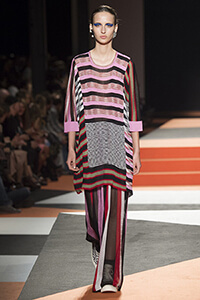 An attractive detail that also intrigues me is THE EXAGGERATED SLEEVE – it can make something fairly classic look more dramatic and on trend. Look for a simple yet structured shirt or looser feminine blouse with strong sleeves that could raise your profile and get you noticed for all the right reasons. As an avid arm-cover-upper (even in the summer) this will work well at disguising my upper arms. Certainly for me I know I will feel comfortable, fashionable and totally covered and as I'm slightly curvier below the waist this will balance my proportions perfectly. Cos and & Other Stories could well be some key places you could check out if you want to recreate this look from the High Street!
Voluminous Sleeve Dress, £125 from Cos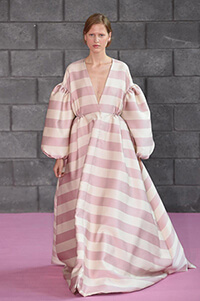 COLOURED LACE can also be fun and playful – in my eyes this could be deemed bold, dramatic and creative. Again, clash bright acid colours together or focus on showcasing one colour block of lace for a solid eye-catching effect. If wearing lace from head to toe scares the life out of you, simply go for one hero piece on the top or the bottom – think outside the box when selecting this new season staple! Lace trousers or a stunning midi skirt could well do the trick. Finery London has some exquisite lace tops and lace trim garments that are very desirable. To make wearing lace appropriate for the daytime and perhaps a little more casual, layering it on top of silk jerseys and fine knitwear, or underneath a dress is definitely the way to go.
Winston Lace Detail Long Sleeve Jersey Top, £35 from Finery London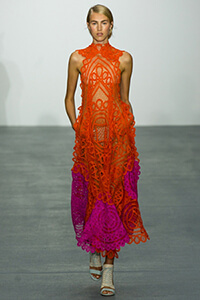 There you have it – MY TOP THREE TREND CHOICES this season!
For an assessment and consultation on which spring trends you should jump on, call me on +44 (0) 7971 484882 or email me at chantelle@personal-stylist.co.uk to book your personal styling session today.