Effortlessly cool, sartorial tailoring ruled supreme once again in Yifang Wan's Autumn/Winter 2014 collection. Taking inspiration from working class artists, there is a prominent nonchalance in the oversized pockets and androgynous blazer cuts. While the loose fits and undertones of femininity give a casual freedom to the sleekly executed, uniform-like pieces.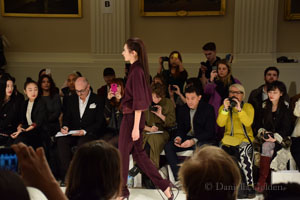 Luxurious colours including lilac, maroon, stone, dark teal and black worked together for a muted and distinctly earthy feel; accentuated further by a textured woollen fabric featuring roughly cut edges. These tactile elements added texture to the collection, as well as being a cosy, covetable design ready for the chilly season of Autumn/Winter.
Deep v-necks and thigh leg splits added a dash of sensuality into the mix which was otherwise loosely draped and oversized. There wasn't a cinched-in waist in sight.
I found the asymmetric aspects and string falling from various outfits an interesting and unconventional expression in the collection. The clumsy prone may have to watch their step when wearing Wan, but the string seems to add an un-done, authentic aspect to the pieces. A subtle inclusion of conceptual detail in the finely cut designs.
Words & Images by Daniella Golden.