Min Wu demonstrated a beautifully crafted collection in a presentation at Fashion Scout during London Fashion week, allowing us to really soak up the MA masterpieces and appreciate them for all their oriental, understated freshness.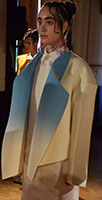 Absent from extravagant detailing, Min Wu played on a skilful blend of minimal, sartorial style and bold colour to strike a power cord. Clean cut and with a Japanese undercurrent, pieces included androgynous, wide-legged cropped trousers, short kimono style sleeves and oversized lapels.
Shooting us up to the skyline, Wu envisaged the serene view above the clouds when creating her collection. It's hard to miss the natural colour influence which inspired the pieces, with a striking spectrum of colour including turquoise, sky blue and tangerine. Toned down in soft ombre, the vibrant hues provided just the right degree of pop against the white and cream base tones.
Worked in wool, neoprene and power mesh, the mix of textures were combined and contrasted for contemporary, cool looks. A particular favourite was the turquoise power mesh, high neck tank top which was teamed with a central split, wool skirt.
Meanwhile, an architectural, three dimensional nod was made on a loosely fit, cream dress, with a bow-like fold of fabric drawn together by electric blue pins. A subtle hit of otherworldly beauty.
Wu's collection was fresh and sleek, un-fussy but visually captivating. Giving us elegance and modernity all at once; it was a burst of sunshine on a rain-drenched day.
Words & Images by Daniella Golden.