The Belle Sauvage Autumn/Winter 2014 collection took the spirit of an iconic and elegant Parisian woman and spun a whole new dimension on the influence – with pop art prints and street-savvy styles cropping up. Leather took low rise trousers and skirts into a dark, sport luxe terrain, while the voluminous shoulders on casual, cropped jumpers gave a powerful, 80s reminiscent vibe. Joining Parisian chic and quirky, mishmash cool in matrimony, the Belle Sauvage woman is strong and sophisticated, but certainly not afraid to have fun.
The contents of a lavish dressing table came printed on everything from voluminous dresses to harem trousers, sometimes featuring 'J'adore' or a rather elegant looking cat. The un abashed boldness of the prints reminded me irresistibly of Jeremy Scott's latest McDonalds inspired collection for Moschino, (who also have no qualms when it comes to the big and bodacious). There's a sort of gaudy charm to the Sauvage collection: a fun irreverence. The lipsticks were lined up like bullets, while the pill box style hats – designed especially by Awon Golding Millinery – were comparable to pillbox style hats worn during war – the influence behind the collection, which took an iconic Parisian woman in the aftermath of war as the muse.
Everything was glamorous. Even the Parisian cat sported red lips and manicured red claws, (not to mention its batting eye lids and lavish gold chain). The crimson red bits of fur were a luxurious and rich part in the collection which was also distinguished by fabrics including silk duchesse, light chiffon and Napa leather. In gold, black and red, the regal notes were defined and a Moulin rouge style also sprung to mind.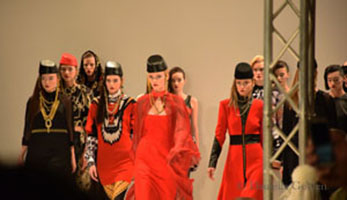 Away from the catwalk, we imagine the Belle Sauvage women is the type of girl who floats through the streets of Paris at night. Alit with a warm glow, she passes the ornate lamp posts, a chiffon cape of light fabric billowing behind her. Before the clock strikes 8pm, you can catch her applying layers of red lipstick and layering pearls over her heavily perfumed neck. A graceful and fast-moving feline, you won't catch her hanging about. If you see a fleeting blur of majestic beauty against the backdrop of Paris' swankiest hangouts, you know you've seen a Sauvage woman.
Words & Images by Daniella Golden